As part of the shift to student-centered learning, I want my students to have some latitude in deciding what equipment to use. The majority of the equipment I use is the low-tech, "standard" equipment – the typical flora and fauna of the vintage physics classroom – along with a set of large whiteboards. As much of this as possible is stored in convenient locations in the room and is carefully labeled.
After a brief introduction, students know where stuff is and if they decide they need to measure the mass of something, they head straight for the triple-beams. No one asks for permission and I don't spend time dragging the basic equipment out.
The careful layout of classroom equipment is not enough, however. It is a waste of time for students to walk across the room when they need a whiteboard marker or pair of scissors. Each table in the class is outfitted with a basket of goodies: whiteboard markers and an eraser, a ruler, a protractor, scissors, masking tape and three sets of multiple choice letters for concept questions.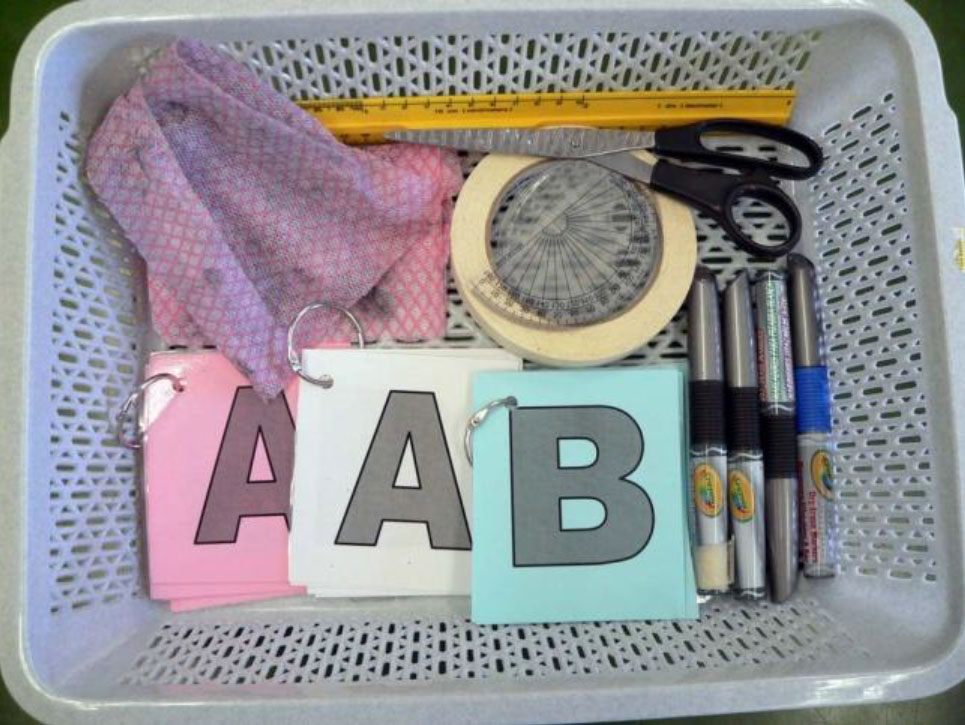 Students' time in my class is precious (at least I think so) and I want them to be able to work as efficiently as possible. Replacing missing items is a very small price to pay (thank you, China). Hanging from the side of each table is a small whiteboard – this was a very happy addition. I now see students, usually during particularly heated discussions, reach over the side and grab the whiteboard for quick illustrations and calculations. I was at one point trying to decide if I could actually bolt the white boards to the table surface, but I think this will do. With this layout of equipment, my hope is that students feel that they are in charge of what they are doing and also feel empowered to follow their ideas and test their hunches.