Steve Fotheringham, OAPT Treasurer

fotheringhams@hdsb.ca
Are you looking for a quick way to assess your class' understanding of a topic, a way to easily integrate technology into your lessons or a way to break up the routine of your class? If you answered "yes" to even one of these questions, let me introduce you to Quizlet.
Quizlet is a website that allows teachers to create study sets about the topics they are teaching. It allows the user to create their own database or search any of the site databases (which currently hosts 300 million sets on a wide variety of topics). Once a topic is chosen, it may be presented to students in a variety of ways as shown below.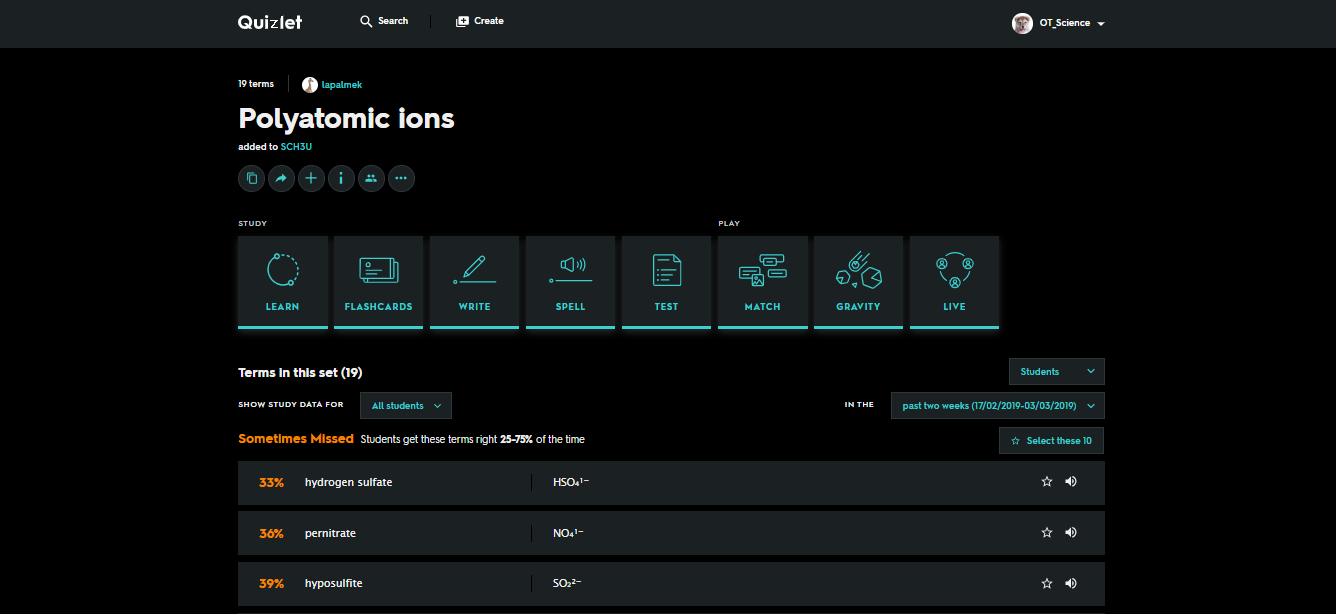 The choices of "flashcards" and "match" very popular options for students when they are studying independently and I find the most effective way to use Quizlet with the full class is by selecting "live".
The "live" option makes the computer a server for a game which is projected on to a screen. The image below appears and students use any of their personal devices (laptop, phone or tablet) to sign in using the web address along with the unique 6-digit code associated with each game.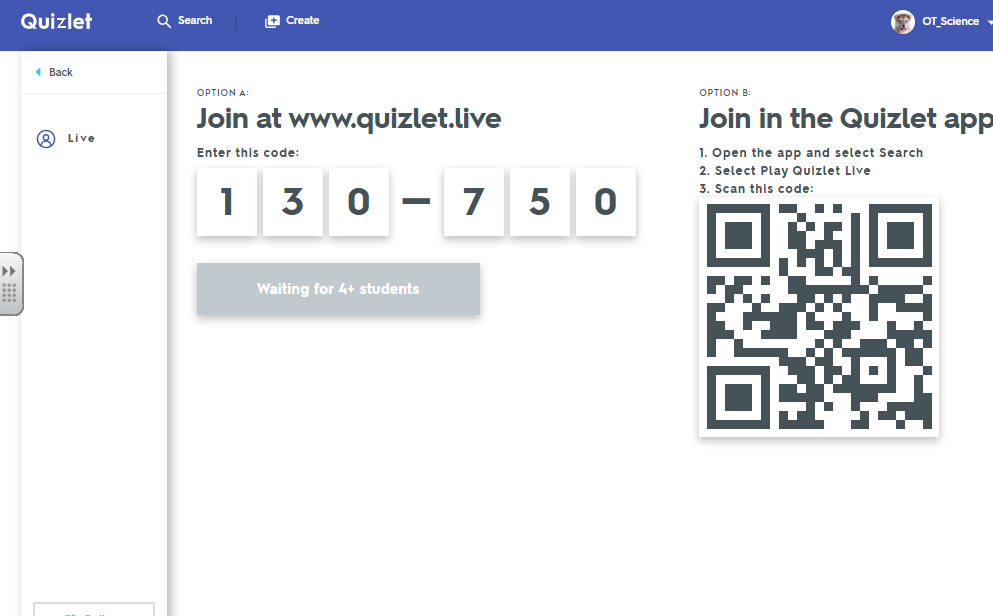 The students are not required to create an account or give any personal information. As a result, there are no privacy concerns.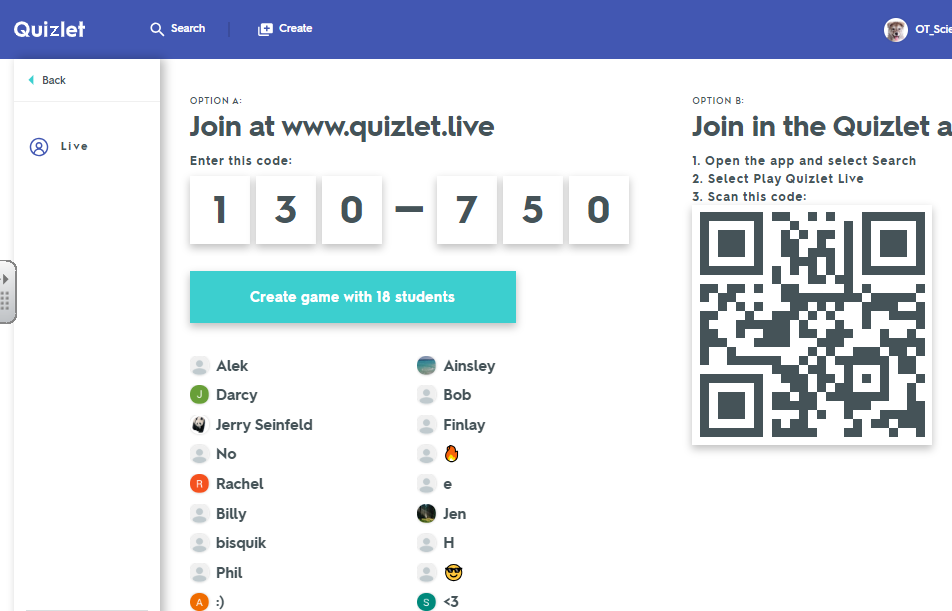 Once all the students are enrolled, they are randomly assigned to groups signified with animal names. This is a great way to bypass the cliques that naturally occur in classes and encourages students to interact with various other people.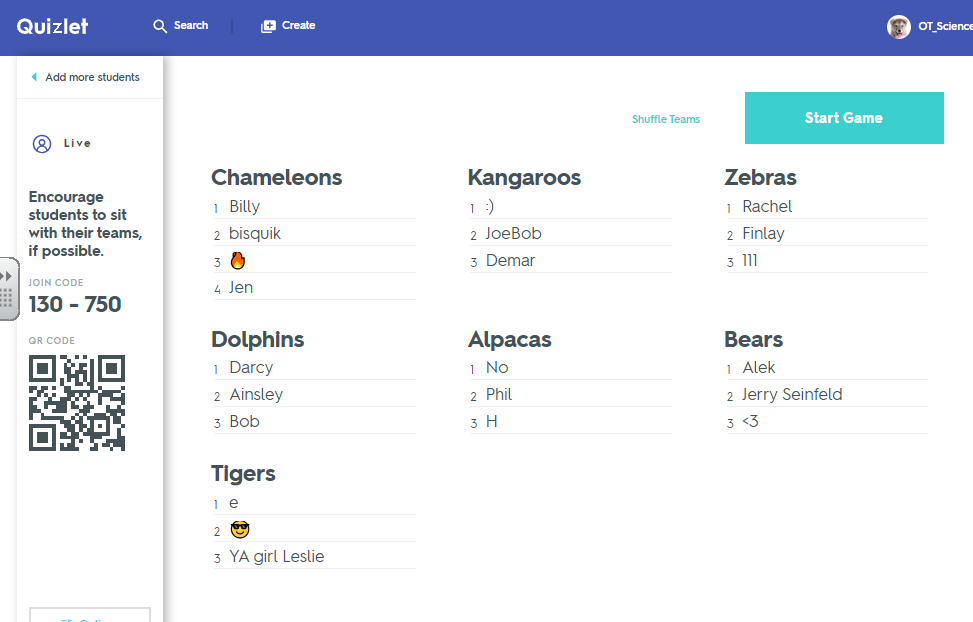 When a new game is started, Quizlet randomly chooses twelve of the questions from the study set. Each student within a group gets the same question but group members each get a unique set of answers on their own device.

The students must compare each answer set to figure out who in the group has the correct answer. In addition, the projector screen shows the progress of each group in real-time so that the students will feel a sense of competition during the game.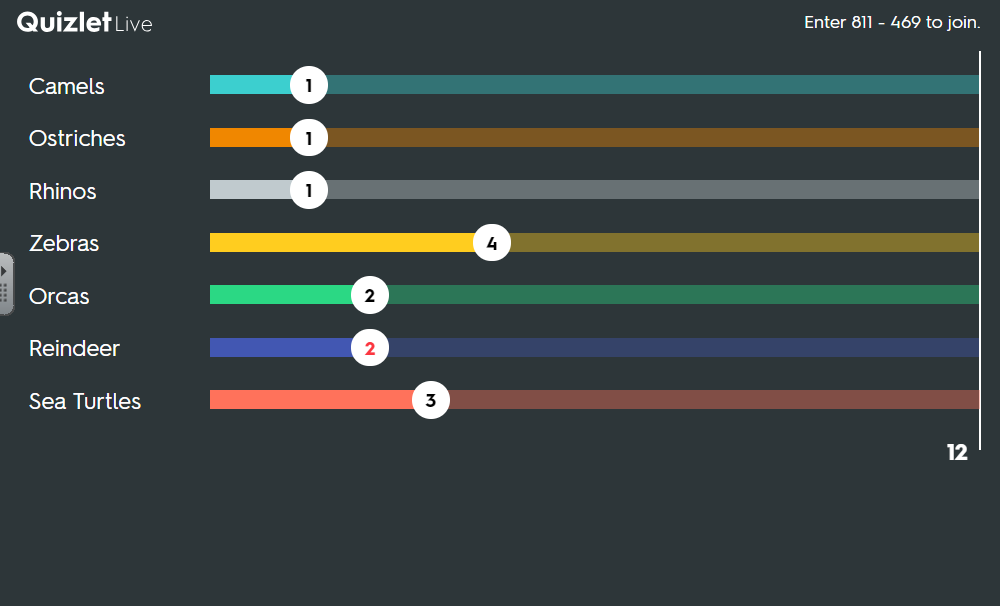 This game has become a regular occurrence in my MPM1D and SCH3U course. I teach Grade 9 math during Period 1 and Quizlet Live has proven to be an excellent warm-up activity to add a burst of enthusiasm and energy to a student's day.
Editor's Note: Steve will be showing how easy it is to use Quizlet at the OAPT conference on Friday May 3 at 10:00. You can register for the conference here and find subsidies to ease your costs here.